Indoor Golfing
The ultimate indoor golfing experience.
Practice inside, play better outside.
How to determine hours of golf!
*This is only an example of typical pace of play. Simulators are rented by the hour, allowing you to play as much as you like within your time slot.
Using the TrackMan™-powered golf simulator is like playing on a real course, only you can analyze your shots and fine-tune your technique. Your golf swing may be compared to statistics and video of that of Tour Pros.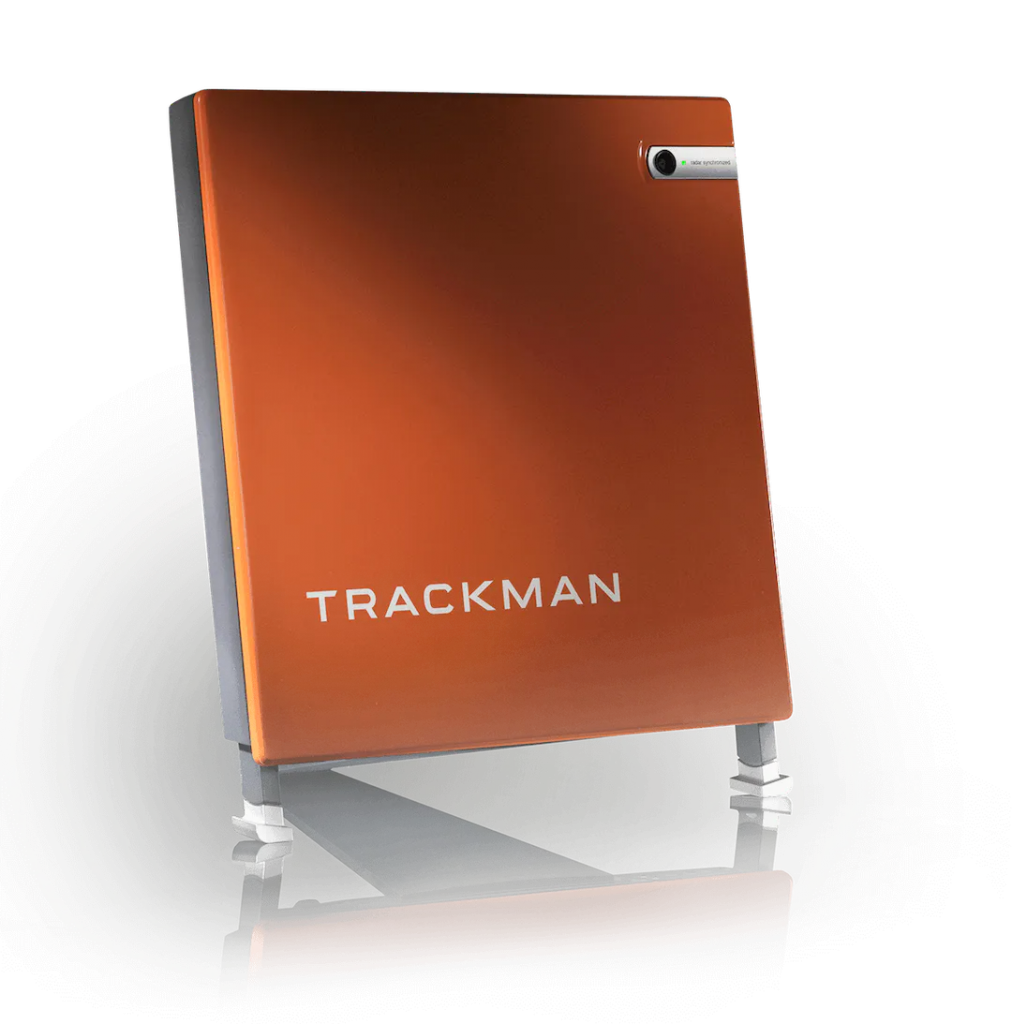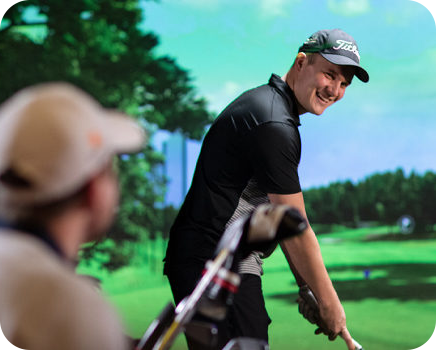 Visit on your own, or bring as many pals as you like. Though walk-ins are always welcome, we highly encourage making a reservation ahead of time on our website to ensure a Bay.
Play 194+ courses from all around the world.
We have Valderrama. Muirfield Village. PGA National. We've even got St Andrews, the spiritual home of golf. All of them are rendered to the most extraordinary quality down to the finest detail. It's an amazing library. Which one will you play?
Achimer Golfclub
Adare Manor
Albany GC
Arthur Hills at The Highlands
Bahia Beach Golf Club
Bakers Bay Golf & Ocean Club: Gloria Golf Resort (3 courses)
Barsebäck Golf & Country Club – Ocean
Barsebäck Golf & Country Club – Pine Course
Bay Harbor (2 courses)
Bear Dance, The Golf Club
Bellerive CC
Bethesda CC
Black Desert Resort
Black Water Links
Blackhawk CC – Falls Course
Blackhawk CC – Lakeside Course
Bonn Godesberg
Bonnie Doon Golf Club
Bowen Island
Breitenloo G.C.
Casa De Campo 'Teeth of the Dog'
Chileno Bay
Chimera Golf Club
Club de Golf Chapultepec
Conway Farms GC
Country Club of Jackson
Crans-sur-Sierre Golf Club
Crystal Pines
Dedham Country & Polo Club
Devil's Island
Donalda Club
Driftwood Golf and Ranch Club
Dye Fore Golf Course, (3 courses)
El Dorado Golf & Beach Club
Eniwa CC: (3 courses)
Evian Resort Golf Club – Champions Course
Falmouth CC
Fana Golfklubb
Fieldstone G.C.
Franklin Hills CC
GC Budersand
GC München Eichenried
GC Neuhof Parkland Course
GKG Golf Club
Glen Abbey GC
Glen Oaks Club – Tournament Course
Golf & More Huckingen
Golf Club de Genève
Golf Club Hanau-Wilhelmsbad
Golf Club Herzogenaurach
Golf Du Fort
Golf Fleesensee Schloss -Platz
Golf Lounge Resort – Black Course
Golf Lounge Resort – Red Course
Golfclub Gut Murstätten
Golfclub Kagerzoom
Gozzer Ranch
Great Northern
Great Northern Academy
Gut Kaden G.C. (3 courses)
Hawktree Golf Club
Het Rijk van Nijmegen
Hidden Canyon
Hillcrest C.C.
Hillside Golf Club
Hillwood CC
HLGC Hittfeld
Hofgut Scheibenhardt Golf Club
Holzhäusern Golf Park
Hualalai Resort
Hudson National
Innisbrook Copperhead
Interlachen CC
Ke'olu Golf Course
Kempferhof Golf Course
Kettle Brook GC
Kissing Tree
Lago Mar Country Club
Lahinch GC
Lake Geneva Country Club
Le Golf National
Leatherstocking Golf Course
Liberty National GC
Lidingö Golf Club
Long Sutton G.C.
Lübker Golf Resort
Mainzer Golf Club
Makena Golf & Beach Club
Manasquan River Golf Club
Marco Simone Golf and Country Club
Medinah Country Club
Miacomet Golf Course
Montecito Club
Muirfield Village G.C. 2021
NCR C.C. South Course
Nemacolin – Shepherd's Rock
Nemacolin- Mystic Rock
New Golf Club – Neu-Ulm
Noboribetsu Country Club
Olympic Golf Course
Orchard Lake Country Club
Oswego Lake CC
Palmerstown Golf Club
Paris International G.C.
Park Golf Club
Pebble Beach Golf Links*
PGA National
PGA Sweden National – Lakes Course
PGA Sweden National – Links Course
PGA West Mountain
PGA West Nicklaus Tournament Course
PGA West Stadium
Pine Brook C.C.
Playa Grande Golf & Ocean Club
Port Huron G.C.
Portland Golf Club
Primland – Highland Course
Quail Hollow Club
Quaker Ridge Golf Club
Quarry Ridge
Real Club Valderrama
Reykjavik Grafarholt
Reykjavik Korpa Ain/Landid
Reykjavik Korpa Sjorinn/Ain
Reykjavik Korpa Sjorinn/Landid
Richland Country Club
Ridgewood CC – Championship Course
Rochester Golf and Country Club
Royal Birkdale
Royal County Down Championship Links
Royal Homburger
Royal Ottawa GC
Royal Portrush – Dunluce Links
Royal St George's
Royal Troon
Rungsted Golf Course
Scioto Country Club
Sea Island (2 courses)
Sebonack
Shadowlands
Shangri-La GC, (3 courses)
Shaughnessy Golf & Country Club
Shelter Harbor
Silo Ridge Field Club
Silverleaf Club
Spyglass Hill *
St Andrews Links (4 courses)
Stoneham Golf Club
Stuttgart Solitude Golf Club
Sutton Bay
Sweetens Cove GC
Taiheiyo Club Gotemba Course
Taiheiyo Club Minori Course
The Concession Golf Club
The Drift Golf Club
The Grove
The Heather at The Highlands
The Links at Spanish Bay*
The Madison Club
The Reserve at Moonlight Basin
The Summit Club
Timberline Golf Club
TPC Colorado
Trinity Forest Golf Club
Troubadour Golf and Field Club
Trump International, Dubai
Union League Golf Club at Torresdale
Vallda Golf & Country Club
Vattanac Golf Resort
Wabeek CC
Wachusett CC
Wayzata C.C.
Wentworth West Course
West Essex Golf Club
White Bear Yacht Club
Wilshire CC
Wohali Resort
Wörthsee
Book your golf simulator now
$39.99 / 1 hour
$49.99/hr
Plan your next group event at Coachwood Golf and enjoy all 4 golf simulators with family, friends, co-workers and more! Click the button below to get in touch and one of our event coordinators will reach out!
Play in REAL Global Tournaments.
Golfers from all around the world may put their abilities to the test. Men and women compete from different tees in a mixed field. Everyone can play the tournament more than once a month to try to get a better score, but only their best score will count. TrackMan will give great prizes to the players at the top of the leaderboards.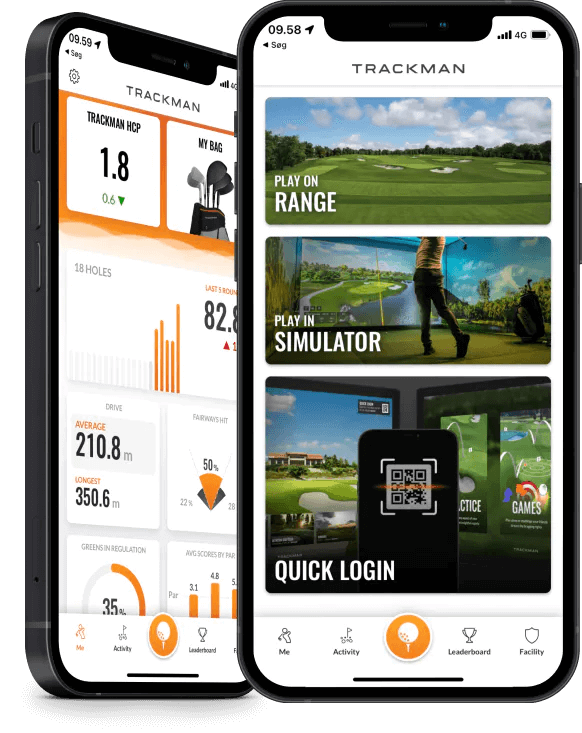 Easily keep track of your game.
During your Simulator, Range, and Practice sessions, you can use the TrackMan™ app to look at & analyze activity reports that tell you a lot about how your golf skills are improving. It's all right at your fingertips.